Weight Watcher Pesto Sauce
Nif_H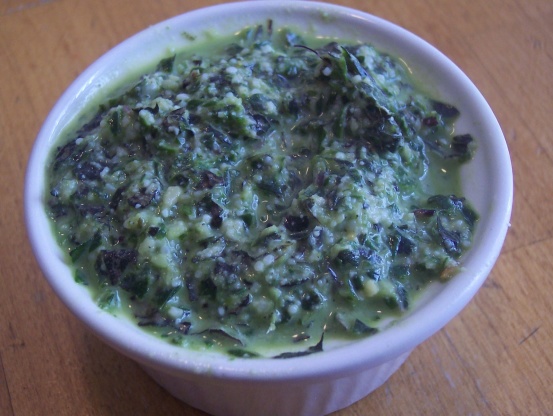 Pesto Sauce that is legal on WW! And better than regular Pesto!

I haven't made this yet, but at 5 points per serving, unless this is all I'm eating, I won't be making it anytime soon. Pairing it with whole wheat pasta or Ronzoni Smart Taste pasta would still be very high in points .
Place pine nuts in a small skillet and set pan over medium heat. Cook until nuts are golden, shaking pan frequently to prevent burning, about 3 minutes. Transfer nuts to a plate to cool.
In a blender or food processor, combine nuts, basil, broth, cheese, oil, garlic and salt; process until smooth and thick. Yields about 1/4 cup per serving.
Notes.
Pesto is traditionally a basil and pine nut-based sauce that's crammed with olive oil. This version is lightened up by swapping chicken broth for oil. The flavor is fresh and wonderful - spoon it over meat, fish, poultry and vegetables, or toss it with cooked pasta.