Wegman's Delicious, Spunky, Clammy Chowda! Longmeadow
PaulaG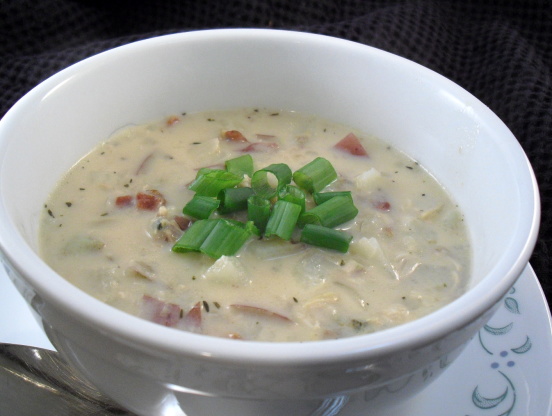 We are so lucky to have this wonderful grocery store here in Maryland. Saw this recipe on the back of Wegmans 5 pound potato sack, and had to try it. I found it delicious, and perfect for a warm Sunday dinner, or anytime during the week for that matter. I had everything on hand, so that made it even easier. *Note* -- any changes I made or mentioned are noted in the ( ) area. I hope you enjoy this, as much as we do on the farm. Now if I can just figure out how to grow clams!
Top Review by PaulaG
Clam chowder is one of my DH's favorites. I made this using 1 cup of clam juice and 1 cup of chicken stock. The potatoes were red skinned and 1 used 2 largish and they were broken up a bit at the end of cooking to thicken the soup. I used a combination of evaporated milk and 1% milk. The soup was garnished with sliced green onions. Delicious! Made for the Diabetic Forums event *Soups On*
3

slices bacon, cut into 1/2 inch pieces (I use 1 slice of bacon)

1

medium onion, chopped

2

cups clam juice (I use chicken stock)

4

medium potatoes, peeled and cut into 1/2 inch pieces
1⁄2 teaspoon dried thyme

1

(6 1/2 ounce) chopped clams, undrained

1

cup whole milk (or cream, I use 1% milk)
In a heavy bottom soup pot, cook bacon on LOW until crisp. Remove bacon and drain off all but 1 tablespoon bacon drippings.
Add onion to pot, stir and cook until limp and golden, about 3 minutes.
Add bacon, clam juice (or chicken stock), potatoes, and thyme. Simmer, covered; stirring occasionally until potatoes are soft, about 20 minutes.
Add clams and milk; simmer, uncovered, 10 minutes.
Season with salt and pepper to taste.