cookin mimi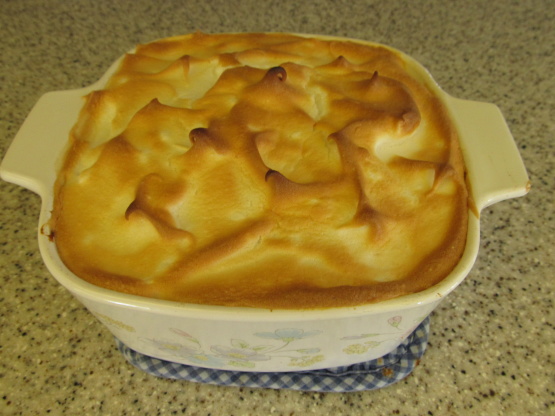 I dont like tears on my pies.

Ann, this is Delicious! It has a bit more substance than regular meringue, and "I don't like tears in my pies" either. I know it drives my mom crazy when she bakes them and gets tears, so I'll have to share this one with her. I paired this up with Lennie's Old-Fashioned Banana Cream Pie. Our DD's eyes rather rolled back in her head with enjoyment as she tasted it, followed by mmmm, and I know she told me at least twice how good it was. DH has some in his lunch for tomorrow, a really nice Monday treat. We Will be making this one again! Thank-you. I'll have to try this meringue on a chocolate-from-scratch meringue pie next…lol
Mix together cornstarch and cold water.
Add to 1/2 cup boiling water.
Cook over low heat until it thickens.
Set aside to cool.
Beat egg whites, dash of salt, and sugar until stiff.
Add cooled cornstarch mixture to beaten egg white mixture.
Put on pie, making sure it covers the edges well.
Bake at 350 degrees for 20 minutes or until golden brown.