Weeknight Tex-Mex Burritos (Or Tacos or Taco-Burgers)
teresas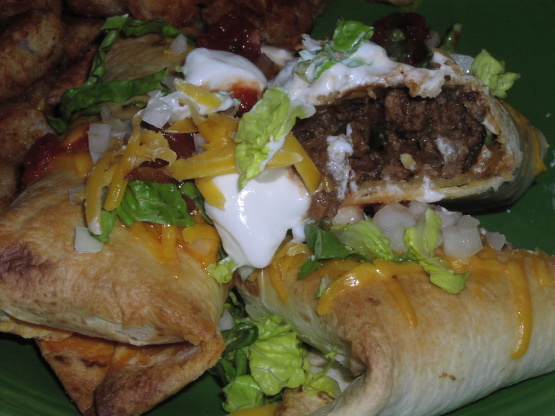 An easy meal to throw together on weeknights when you are busy with work, school, or sports.

Great mix! I made burritos. Instead of ground beef, I used ground turkey, so no need to drain any fat. I cut the recipe down to serve 4 but used the full can of beans. Topped with cheddar and jack cheese, salsa and sour cream before rolling them. Tasty, quick dinner!
In large skillet, brown ground beef over medium to medium-high heat. Drain off fat.
Add in all spices. Stir in water, cooking over medium heat until water cooks off. (Water helps ensure even distribution of spices throughout meat).
Stir in refried beans and green chilies. Heat through. Adjust seasonings to taste.
Burritos: Warm flour tortillas in microwave or in oven. Spread meat and bean mixture on each flour tortilla. Garnish with preferred toppings. Enjoy.
Tacos: Toast taco shells in oven according to package directions. (Note: toasting the taco shells is a MUST). Spoon meat and bean mixture into each taco shell. Garnish with preferred toppings.
Taco-burgers: Toast hamburger buns in oven until light golden brown. Spread meat and bean mixture onto bottom half of buns. If making taco-burgers, you may want to substitute sliced cheese (such as American). Garnish with preferred toppings.