Weeknight Red Beans and Rice
Sean S.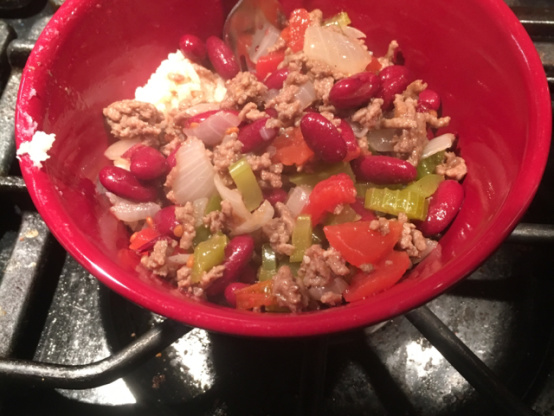 A quick way to serve a nutritious, but delicious meal.

Thank you so much! I'm always looking for new ways to use kidney beans, which I love but have so few uses for! This was wonderful! I didn't have cajun seasoning, so I made up my own from things I had in my cabinet such as seasoned salt, parsley, granulated garlic, white pepper, chili powder, and paprika. I *love* this recipe! This is going to be a wonderful, flavorful, fast and easy addition to our weeknights!
Heat 1 tbsp oil or butter in medium non-stick pan (that has a lid).
Add rice and stir in the hot oil until most of the kernels are opaque.
Add water and bring to a boil.
Reduce to a simmer, cover, and cook for 15 minutes.
(If using brown rice, increase water and cooking time slightly) Meanwhile dice vegetables.
Heat 2 tbsp oil or butter in a large non-stick pan or Dutch oven.
Add the diced onion, bell pepper, celery and garlic.
Saute until tender.
Add the sliced turkey smoked sausage and saute until heated through and slightly browned.
Add pepper, seasoning and bay leaf.
Continue to stir and saute for about three minutes.
Add diced tomatoes and canned beans (do not drain).
Add salt, pepper and hot sauce to taste.
Simmer about 15 minutes, then remove bay leaf.
Place about 3/4 cup rice in the bottom of a soup bowl.
Cover with red bean mixture.
Serve with French bread and pass more hot sauce.