Weeknight Pepperoni Pizza Sammies
loof751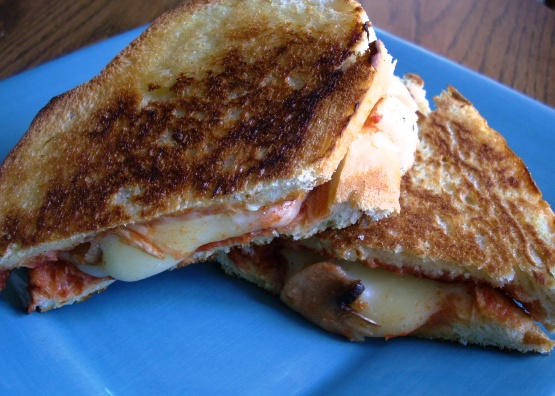 I always forget to pull meat out of the freezer for my husband before I go to work, so this invention came to me on a late Monday when I needed something yummy in a hurry.

I made these on a weeknight when I had of course forgotten to take meat out of the freezer. They were really good sandwiches, the sourdough bread was great with this. I used turkey pepperoni and just some shredded mozzarella cheese to try to make it slightly healthier. The sauce was good, too, the mushrooms and onions really give it a pizza taste.
For sauce:.
Heat oil in small saucepan.
Add garlic, onions, and mushrooms.
Saute until soft.
Stir in tomato paste and water.
Add Italian seasoning, oregano, marjoram, salt, and pepper.
Stir and Simmer for about 15 minutes or until flavors have combined.
Spread sauce on all 4 slices of bread.
On 2 slices, add mozzarella and pepperoni to cover.
Sprinkle mixed cheese to cover pepperoni.
Top with the other 2 sourdough slices.
Heat sandwiches until cheese is melted and bread is toasty.
For extra toasty bread, I put the bread in a toaster on a light setting before cooking.
To heat the sandwiches you can use stove top, baking, panini press, or (as I did) grill them on the foreman :).