LaraKN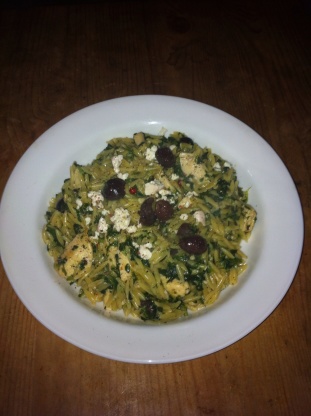 This is a simple recipe with a spicy kick for garlic lovers. Orzo cooked in broth doesn't need draining, the flavor gets cooked into the orzo and the starch thickens it into it's own sauce. Pop the spinach in the microwave to thaw and chop chicken while waiting for broth to boil. Drain spinach and chop parsley while chicken is cooking. Easy to get on the table in under 30 minutes. Use feta in place of parmesan, add a few chopped olives & juice of one lemon to give it a Greek flair. We like it heavy on the garlic & red pepper, but can be done to your tastes. First time I made it, I thought I went too heavy and it was rather bland. If you like bolder flavors, start on the higher side of the garlic & red pepper.

Super easy all in one dinner. I spent 20 minutes of active time, prepping the next stage while one cooked like recommended & had a fabulous dinner. Usually "easy" or "quick" recipes take me longer than they state, because I don't have someone prepping my ingredients for me, that they don't take into account, this did not. Was great leftover too. This will make the weeknight rotation.
Bring chicken broth to a boil with 1 clove of minced garlic.
Add orzo pasta, cook for 8 to 10 minutes, stirring occasionally, until al dente.
Heat the oil in a skillet over medium-high heat, and stir in the remaining garlic and red pepper about 30 seconds.
Stir in chicken, season with salt & pepper, and cook 5-6 minutes, until lightly browned and juices run clear.
Reduce heat to medium, and mix in the parsley, spinach, cooked orzo with remaining broth and parmesan. Continue cooking 2-3 minutes, stirring until combined and spinach is wilted.
Serve topped with additional Parmesan cheese if desired.