Wedge Salad With Barbecue Ranch Dressing
lazyme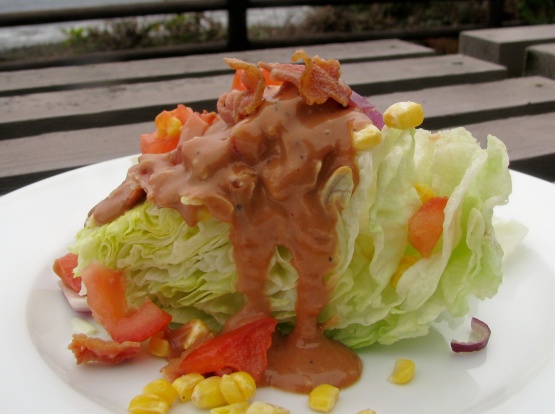 A crisp and clean wedge salad with a spicy barbecue ranch dressing to top it off.
Wisk together the barbecue sauce, Ranch dressing, mayonnaise, lemon juice, garlic, red pepper flakes, salt, and pepper together in a bowl.
Let chill in the refrigerator for 10 minutes before putting on the salad.
Core the iceberg lettuce and take out any discolored leaves.
Cut the head into 4 wedges.
Mix together the bacon bits, chopped tomatoes, corn, and red onion in a bowl.
Top each wedge with the bacon, tomatoes, corn, and onion mixture.
Right before you serve the salad, top each wedge with as much of the dressing as you like.