pammyowl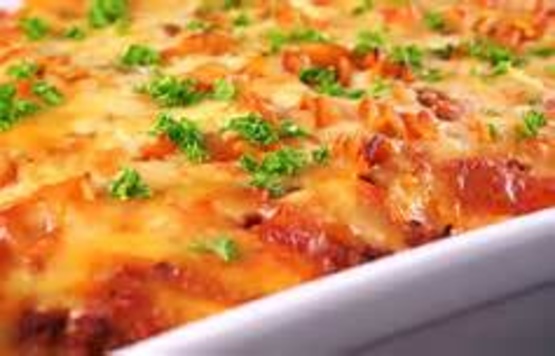 My sister loves my lasagne so much she asked me to make it for her wedding reception! Luckily it was a small wedding! The trick is to caramelize the tomato paste.This gives a " bubbled on the back of the stove all day" flavor!

Pammyowl's recipe is SO tasty and I made it as authentically Italian as I could by shopping at a local Italian market for the noodles, and tomato products as well as the fresh ricotta cheese. Using one beaten egg in the ricotta-parsley mixture helps the lasagne construction hold together without being dry or giving an unpleasant texture to the dish. I substituted a mixture of Asiago cheese and Parmesan with the ricotta as I like the extra flavor the Asiago lends anything. I rubbed each pan with a good olive oil to give flavor as well, but was careful not to add enough to taste too oily. Anyway the forty men who ate at our church meal for the homeless wiped out my two pans first before all the rest and that was caused by them returning for seconds on my dishes. My husband ate some then,too, and he was simply delighted with his portion. p.s. I used a lot of carmelized Spanish onion, extra,fresh Italian spice mix, and two teaspoons of minced fresh garlic for each separate recipe. Since this is Michigan, I refrained myself from adding anything other than the very mild Italian sausage. This dish is a treasure and such a comfort food. I think that all the men will remember the wonderful homemade Italian lasagna that they ate together there last Monday night for a long time. Thanks, pammyowl!
Brown onion and meat.drain. Add garlic and tomato paste. Cook and stir about 5 mn. till paste has turned a darker shade of red.
Add sauce, diced tomatos, basil marjoam salt and sugar.Simmer till thickener.Add more herbs and spices as needed.
Meanwhile blend ricotta, egg parmesan, and parsley.Boil noodles.
Assemble.like this: layer of sauce , layer or noodles layer or ricotta mixture, layer of mozzarella, layer of sauce.Repeat making sure to end with a layer of sauce. Cover with foil and bake for 1 1/2 hours Remove foil, sprinkle with more parmesan. Let rest for 10 mn. and serve.