Wayne's Beef Macaroni and Cheese
ChefDLH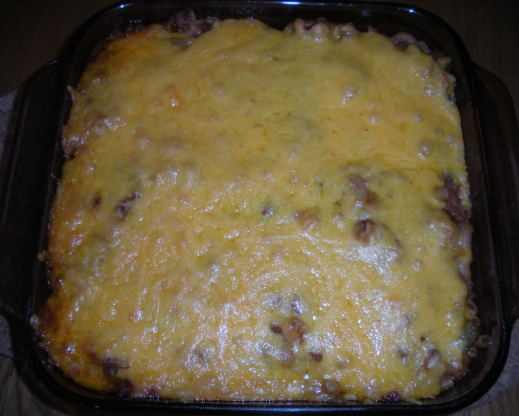 Recipe courtesy Paula Deen Show: Paula's Home Cooking Episode: Grubfest just saving the recipe to my cookbook, didn't wanna lose it.

I had found this recipe of Paula Deen's and was happy to see it posted here already. This was very good. Thanks for posting KMW325i.
Tip: The box of elbow pasta from the original recipe is 16oz or a lb. It didn't get posted here but helped me to know that. I would love to share how it tastes the next day but it is all gone. My family enjoyed this one. The only complaint was that there wasn't enough seasoning. Next time I will do a Tablespoon of each of the seasonings instead of a teaspoon. Overall it is a great dish to make for a weeknight meal. We paired with a salad and it was very nice. Made for Bargain Basement Tag Winter 2011-12. Enjoy! ChefDLH
Heat the oven to 350 degrees F.
Cook the macaroni according to package directions; drain and set aside. Heat the oil in a skillet; add the peppers, onion, and garlic, and saute until soft. Add the ground beef and saute until browned. Add the tomatoes, salt and pepper, to taste, and the basil, cumin, and oregano. In a large bowl, combine the macaroni and the beef mixture. Spread this mixture into a 9 by 13-inch baking dish. Top with the cheese and bake for 20 to 25 minutes, or until the cheese is lightly browned and bubbly.
Cook's Note: Ground turkey or chicken can be used in place of beef, if desired.