Wayne's Beef and Macaroni and Cheese
ChefDLH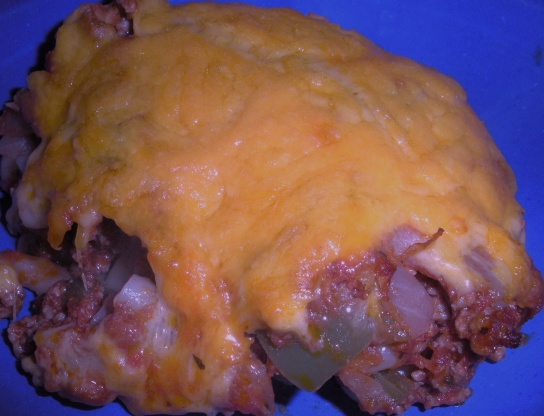 This recipe is by Food Network's Paula Deen, and is a great comfort food. All of the ingredients just blend together so well. It's easy and simple and sure to become a favorite of yours as well as mine.

This was very good. I was glad to see the Paula Deen recipe posted here already from her recipes from Lady and Sons. The original recipe writes that the box of pasta be 16oz and the basil, cumin and oregano be one teaspoon each. The recipe here doesn't have the specifics posted but I found knowing it helpful. I actually think the seasonings should be a tablespoon each. The recipe is easy to make and made a very nice family meal. Enjoy! ChefDLH
Heat the oven to 350 degrees.
Cook the macaroni according to package directions; drain and set aside.
Heat the oil in a skillet; add the peppers, onion, and garlic, and sauté until soft.
Add the ground beef and sauté till browned.
Add the tomatoes, salt and pepper to taste, and the basil, cumin and oregano.
In a large bowl, combine the macaroni and the beef mixture.
Spread this mixture into a 9X13-inch baking dish. Top with the cheese and bake for 20 to 25 minutes, or until the cheese is lightly browned and bubbly.
Note: can use ground turkey or chicken in place of beef.