Patti C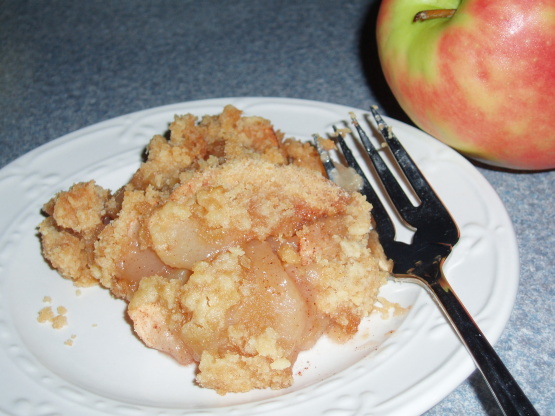 I know there are a ton of apple crisp recipes. This is one my Aunt Dee always made. Every time I make it I think of her. The long talks we had eating this with a mug of hot chocolate.
6 -8

apples, peeled and sliced (I have also used 2 14.5 oz. canned fruit, drained peaches, pears etc., canned pie filling would also)
3⁄4 cup brown sugar, well packed

1

cup flour
1⁄2 cup butter
cinnamon sugar
Preheat oven to 350°.
Spray a 9x13 pan.
Place apples in pan.
Sprinkle the cinnamon sugar to taste over the apples.
Combine flour and brown sugar.
Cut in butter.
When the butter is mixed in well, sprinkle evenly over the apples.
Bake for 45 minutes.
Serve warm or at room temperature topped with ice cream or whipped topping. If we are feeling crazy that day, we might add some caramel sauce and nuts.
Enjoy!