Stacky5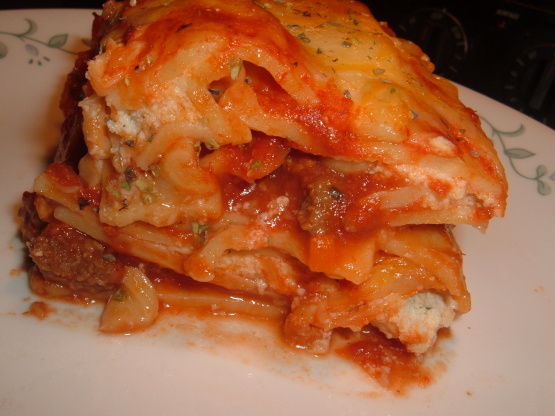 This is a good, basic lasagna recipe.

Perfect! I made this for our recent vacation to Manitoulin Island. I doubled the recipe and put both ricotta and cottage cheese in and omitted the cinnamon. I cooked and then froze them. I added a can of spagetti sauce and shredded mozarella on top of both 9 x 12 pyrex dishes before reheating them in the sauna (let it warm all day). It was phenominal!!
In large skillet, heat olive oil and cook ground beef until well-browned.
Add onion and garlic and cook 5 minutes longer.
Mix in Italian seasoning, sugar, oregano, cinnamon, tomato sauce and tomato paste.
Simmer for 45 minutes, or until sauce has thickened.
Preheat oven to 350°F.
Mix ricotta cheese, eggs, salt, basil, pepper, parsley and Parmesan cheese together.
Set aside.
In a greased 9x13-inch pan, layer noodles, 1/3 of cheese mixture, 1/3 of meat mixture and 2 cups mozzarella cheese.
Repeat layering 2 more times.
Cover pan with aluminum foil and bake for 20 minutes.
Remove foil and bake 10-15 minutes longer.
Let stand 15 minutes before cutting into pieces.
Enjoy!