Peter J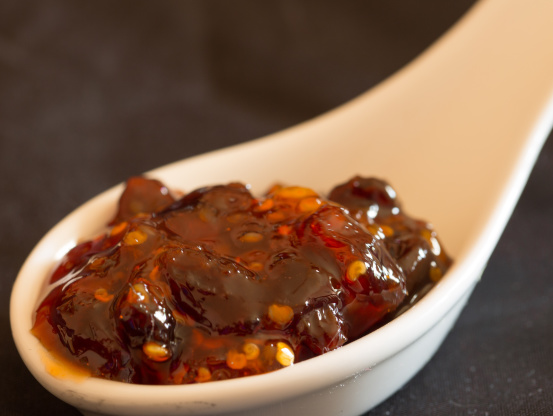 A recipe that was acquire from a mad military musican who is often seen picking olives from the wild olive trees in the foot hills of Adelaide. He advised that this chilli sauce improves in flavour and strength with age and that it's for internal use only. However, if pain persists see your doctor. Note: This recipe yields 1.5 litres of sauce. I could only put 1 litre in the "Yield" field.

This is the best chilli sauce I've ever had! The sultanas give it a great fruity flavour and it has a nice consistency so it doesn't run everywhere like many commercial sauces. I used some fairly small / hot chillies so half seeded them so it had a good kick without being too over the top.
Roughly chop chillies.
Take out the seeds before chopping if you like a mild chilli sauce.
Place the chopped chillies in a blender with a little bit of vinegar, blend on high speed for a minute.
Then place all the ingredients, including the chillies, into a sauce pan and bring to the boil, reduce to a simmer.
Simmer for approximately 30 minutes or until the chillies and sultanas are very soft.
Let cool.
Then in a clean blender blend the chilli sauce until smooth and creamy.
You should end up with approximately 1.5 litres of chilli sauce.
Bottle into sterilised jars.