eabeler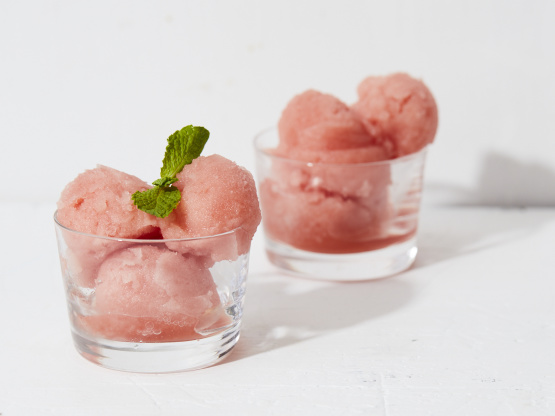 I'm posting this in answer to a request. I haven't made it myself. It was on a site called The Ice Cream Parlor. An ice cream maker is necessary. Times do not include chilling or freezing, and are guesses.

I made this using 1/2 cup of light corn syrup instead of the sugar and water! So much easier! This tasted great! I think I'll add 1 tablespoon of vodka to the mix next time...it keeps the sorbet from freezing rock solid in the freezer! I'm adding my photo!
Cook the sugar, water and lemon juice together, stirring occasionally until the sugar is dissolved.
Remove from heat and chill.
Cut up the watermelon and remove all seeds.
Puree in a blender or food processor.
Stir into chilled syrup.
Freeze in an ice-cream maker according to the manufacturer's instructions.
Pack into an airtight container and store in the freezer.