This recipe was printed in the Vita-Mix Whole Foods cookbook. It is called a Watermelon Smoothie and I decided to change the name because it reminded me of those ice drinks you can get at a convenience store.
Directions
Place ingredients in order listed in blender.
Secure lid, flip the switch and quickly increase speed to high.
Run until smooth and ice is crushed.
Serve immediately.
Reviews
Most Helpful
Love this recipe idea! Unfortuantely, my watermelon was not the best tasting (winter in Michigan) so I know the slurpee wasn't as excellent as it would normally be - which is why I'm still rating it a 5. I cannot wait to try this during the summer when the watermelons are really ripe and juicy! I found the guava juice in a can in the Mexican foods aisle at the grocery store. Thank you Paula!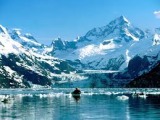 Yum!! This was so good I had to buy more watermelon! My kids loved this too! I made it with passion fruit juice also. Thanks for the recipe!
YUMMY! I made this today since it was 103 degrees and we needed a refreshing drink. I added frozen strawberries instead of fresh berries and ice. I also used OJ since I didn't have guava juice. I agree that this could be a tasty grown up drink with some vodka!