Watermelon Sensation Libation
Bev I Am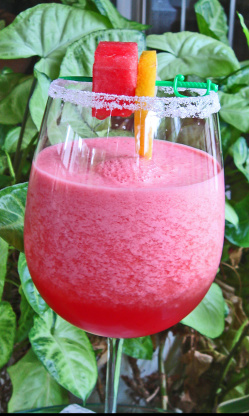 What a delicious way to use up some of that summer supply of watermelon! This recipe uses a simple syrup ( recipe follows). Cook time reflects time to chill watermelon in freezer. I found this on the Food Network. The name has been changed to protect the innocent ;) as well as some of the ingredients to suit my personal preferences. This drink is also very good with light Rum or Coconut Rum to replace the vodka! I haven't tested it with Lemon Flavored Vodka, yet, but I imagine that would also be good.
Put diced watermelon in the freezer for 30 minutes to chill.
** (see note)Combine watermelon, vodka, coconut juice and 7 oz of simple syrup in a blender and puree until smooth>>(** You may find, like I did, that all your ingredients will not fit into your blender. In this case, blend your watermelon, pour pureed watermelon into large pitcher, adding remaining ingredients to pitcher and mix thoroughly.).
Finish with a squeeze of fresh lemon (about 1/2 tsp).
Run lemon slice around top of tall glass, then dip rim in sugar.
Serve well chilled, and garnish with watermelon and/or lemon slices.
To Make Simple Syrup:.
Combine sugar and water in a small saucepan. Cook over low heat, stirring, until the sugar dissolves.
Can be stored in a sealed container in the refrigerator for up to 1 month.