Watermelon Salad With Lime Dressing
katew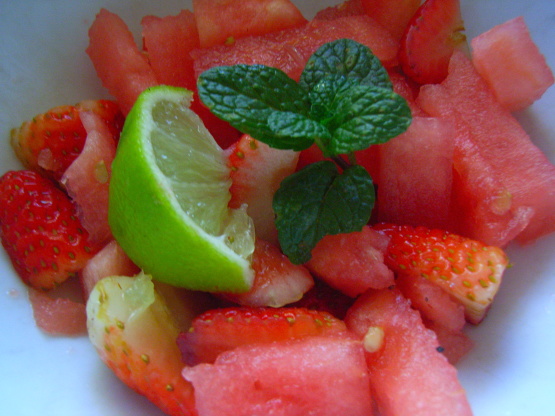 An unusual salad featuring watermelon, co-starring honeydew and cantaloupe. For ZWT, classified as Southwest for the lime dressing's TexMex flair.

Top Review by Leslie
Made for ZWT 7: This recipes is delicious and refreshing! I used fresh mint from my garden and chopped chives instead of the onion as I had no onion on hand. The combination of the herbs with the melon and lime dressing is uniquie and just bursting with summertime flavour. I highly recommend this salad!
Whisk lime juice, honey, mint, and oil together until honey is dissolved.
Combine the melons and onion in a large bowl.
Toss melon mixture with lime dressing to coat.
Garnish with salt and pepper to taste.