Watermelon Rind Pickles (Refrigerator Method)
Tona C.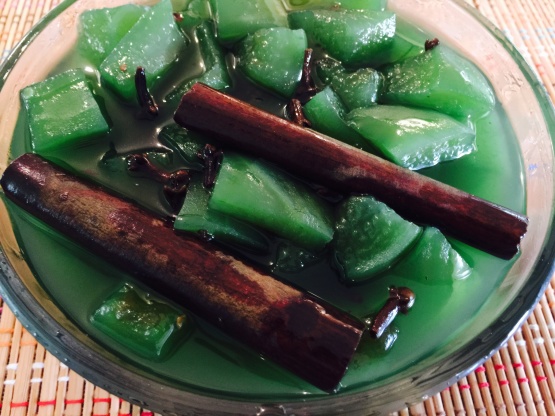 Don't toss that watermelon rind out. You can make these tasty pickles without fussing with canning jars and lids. Just store the product in a glass container in your fridge for up to 2 weeks (but they'll probably be gobbled up a lot sooner)!
Bring all ingredients (except food coloring) to a rapid boil, stirring frequently. Reduce heat to simmer, cover and cook until pickles are tender and somewhat translucent. Add green food coloring if desired. Transfer pickles, juice and cinnamon sticks to a covered glass bowl and store in the refrigerator after cooling. Discard the pickling spices.
Wait at least 12-24 hours to serve so that all the flavors have been absorbed.