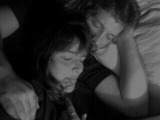 A cool summer treat for the kids, It looks like wedges of watermelon when done. You will need either popsicle molds OR 24 3oz paper cups, and 24 wooden popsicle sticks.
1 small watermelon, seedless
1 cup sugar
1⁄2 cup mini chocolate chip
2 pints lime sherbet, softened
Directions
Scoop out and measure 10 cups watermelon pulp. Puree watermelon and sugar in batches in blender until smooth.
Push puree through mesh strainer into a large bowl. Cover and freeze until puree is slushy but not solid, about 3 hours.
Remove from freezer, stir in chocolate chips. Place 24 3oz disposable cups in 2 shallow baking pans (spoon puree into cups to within 1/2" of rim). Place pans in freezer until puree is solid but not rick hard, about 2 hours.
spread softened sherbet on top of each portion of puree so that it comes up to edge of cup. smooth top off with the edge of a butter knife. Cover each cup with plastic wrap and cut small slit in center. Insert popsicle stick into each cup so it reaches the bottom. Freeze until solid, about 6 hours and up to 2 days.
To unmold: Let pops sit at room temperature for about 1 minute. then gently pull out from cups. Or you can peel away the cups from the pops.
Most Helpful
Cute and fun! I will use an ice cream maker for the watermelon next time. Wish I'd read that review earlier! But it was still easy without one. I used popsicle molds. Only warning is the sherbet melted much faster than the watermelon so could get pretty messy, but my son just scooped it off and ate it first :)
Using an ice cream maker to prefreeze the watermelon cuts down on prep time. I used a thin layer of vanilla between the sherbet and watermelon layers and the mini chips that are used as an ice cream topping. Not exactly sure the chocolate goes with watermelon. Maybe next time I will use candied sunflower seeds. Everyone else liked it though.

In view of the fact that, I am a Grandpa to three beautiful grandchildren (7yrs.; 4yrs.; and 3yrs.). It will be great to introduce a very delicious treat for them; nourishing, too. Thanks so much. An excited Grandpa Gord !!