Rita1652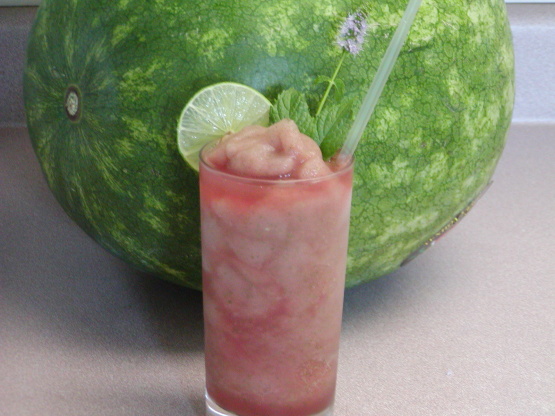 From August 2004 Cooking Light..so yummy I drank almost all of them myself. Great for a BBQ or just as a refreshing summer cocktail. Cooking is the time it takes to freeze the watermelon!

I thought this was a really tasty summer cocktail. I ended up mixing it all up in the food processor, my blender wasn't big enough. I have a feeling these could sneak up on you if you weren't careful. Nice and refreshing drink for a warm Summer dayl Thanks for posting the recipe.
Arrange watermelon in a single layer on a baking sheet, freeze 2 hrs or until completely frozen.
Combine watermelon, sparkling water, rum, mint, and limeaid in a blender and let'er rip!
Garnish with whole mint sprigs and lemon slices.