loof751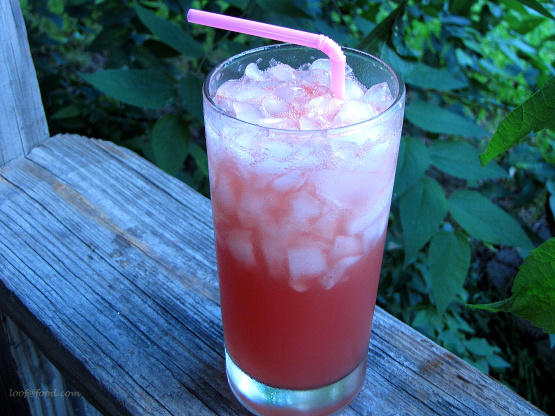 Recipe from Eating Well magazine and it is simply divine! So summery and fruity, yet not overly sweet. You can definitely make this non-alcoholic by simply omitting the gin. They also recommend this pretty pink cocktail to be served at Bridal Showers.

Husband enjoys gin, and I love watermelon, so we decided to give this one a try. Balanced flavors, not too sweet or too tart. I did strain the watermelon through a rough/wide sieve, and it ended up with just enough pulp to give it flavor. 2 cups of cubed watermelon made about 1 cup of watermelon juice for me. Will definitely be making this one again.
Puree the watermelon. Strain (I do not strain, I simply use the puree); divide the juice among 4 TALL ice-filled glasses.
Top each glass with 1 1/2 ounces gin, 2 tablespoons lime juice and 1/3 cup ginger ale (I use a little more soda).
Garnish with the lime wedges.
NOTE: I mix mine up to take to the pool by combining the puree, gin and lime juice in a container and then just take cans of soda. I find that this amount makes 5 LARGE drinks.