Watermelon, Feta and Black Olive Salad
JustJanS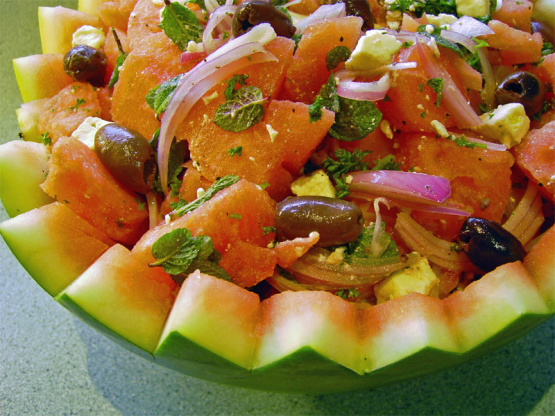 A co-worker introduced me to this salad. The combination sounds odd, but it all works! The sweetness of the melon, the tanginess of the feta, and the tartness of the lime combine to make an amazing taste sensation!

I wish I could give this more than five stars. This is like a Mediterranean salad from an alternate universe, with watermelon instead of tomato, and it is delicious. The sweetness of the watermelon is offset by the sour, salt, onion flavors. I didn't have fresh herbs, so I used a pinch of dried parsley and a pinch of Greek oregano instead. I also used peppercorn feta crumbles because that is what I had a package of. Also used more olives than were called for, but that's because I love them. This was really surprising and really filling. Try it if you like Greek salads.
Place the onion slices in a small bowl, add the juices from the limes; set aside.
In a large bowl, combine the feta cheese cubes with the watermelon cubes, the black olives, parsley, mint, olive oil, and pepper.
Add the onion and lime juice mixture and gently toss to combine.