rpgaymer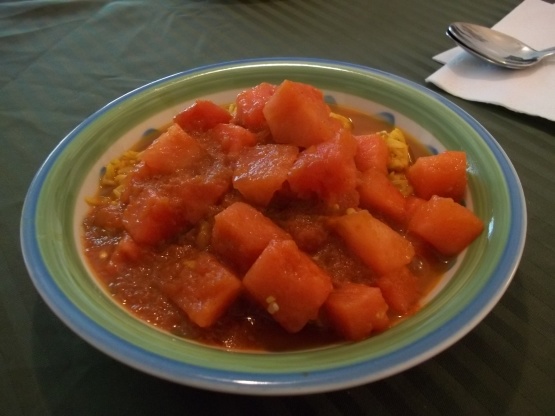 Influenced by a similar recipe in "The Great Curries of India" by Camellia Panjabi (1995), this is a dish that will astonish your guests. Since it takes less time to make the curry than it does to prepare the rice, however, you might just want to make it mid-week. Be sure to cut the watermelon into cubes that are small enough to fit whole into the mouth to avoid being messy when eating. The original recipe did not use the coconut milk and used whole cumin seed instead of ground.

Great recipe . Please review the recipes as it has one main ingredient missing before posting. ' SALT' This makes a lot of difference to the beautiful dish.
Puree 1 cup of the watermelon cubes, chile powder, turmeric coriander, garlic and cumin in a blender until smooth.
Pour puree into a large skillet or wok and bring to a simmer. Allow to simmer for about 5 minutes, so that the contents have reduced by about half.
Stir in coconut milk and lime juice and continue simmering for another minute.
Add the remaining watermelon cubes and simmer until hot through, about 3 more minutes.
Serve over rice.