FlowrBx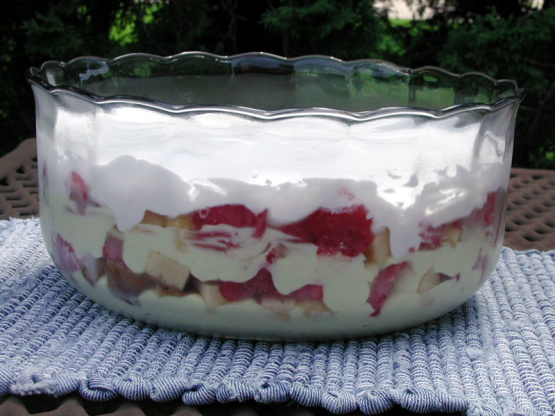 This is a dessert I found on the internet and have made several times since then. The first time I made is was for our Fourth of July celebration in 2003 and the whole family just loved it! It's so delicious and refreshing on a hot summer day! The cooking time I've listed is actually the time required to chill the trifle.

I made this trifle to finish off a BBQ. It was the perfect ending to the meal, the perfect treat for a hot day: sweet yet light and refreshing. Everyone around the table thought it worthy of five stars. We discussed that several other fruits would be good in this trifle but using watermelon made it unique. One thing I would suggest would be that you give the watermelon a chance for excess juices to drain off of it after cubing it, before adding it to the trifle layers. I used sugar-free pudding and light Cool Whip and no one could detect either. Thank you, Dreamgoddess, for sharing this delightful recipe! I will be making it often!
Note: I couldn't find lemon flavored yogurt, so I used plain yogurt and added about 1/2 - 1 t lemon peel to it.
Combine the yogurt, milk and vanilla pudding in a large bowl; beat until thick.
Take out 1 c of cool whip for garnishing and fold the remaining cool whip in the pudding mixture.
To assemble the trifle, spread half of the pudding and cool whip mixture in the bottom of a trifle bowl.
Put half of the cake slices on top of the pudding mixture and top with half of the watermelon cubes.
Repeat layers.
Top with the reserved cool whip.
Cover and chill for 2 hours before serving.