Watermelon, Cherry Tomato, Red Onion and Cucumber Salad
This is a really refreshing summer salad. Add a little feta cheese or goat cheese if you like. From our local paper.
Directions
Combine watermelon, tomatoes, onion, cucumber, lime juice and oil in a large bowl. Season with salt and pepper. Cover and refrigerate for at least 1 hour.
Reviews
Most Helpful
This was really easy to put together and very tasty. I didn't have red onion, so I used white (a tip for those who find the onion too strong - rinse it under running water before adding it to the salad). It will definitely be made again. Thank you.

I added about 1/3 cup chopped fresh basil. A light and refreshing summer salad, just perfect on a summer day. Great recipe!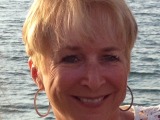 This was a very fresh and interesting salad. It was different but very yummy, loved the simple dressing of it, thanks! Make this for the Rail Riding Rowdies ZWT5.