Watermelon Cantaloupe Salad With Mint-Basil Vinaigrette
HisPixie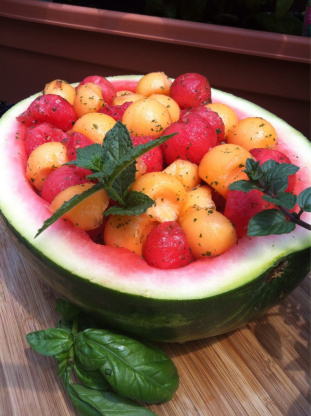 From Giada DeLaurentiis, Food Network. I made this today and it is VERY good. I didn't have amaretto; I used almond extract.

Love it. I made this several times. I often half the recipe if its just for the immediate family and we still have plenty for left-overs. I have used the watermelon as the bowl as well as just put everything in a regular bowl. The first couple times I made all the pieces balls (which can take a bit of time), but now I usually just chop them into small chunks and it works just as well.
1⁄2 watermelon

1

cantaloupe, cut in half, seeded

2

tablespoons mint leaves, chopped

2

tablespoons basil leaves, chopped

1

lemon, juice of (1/4 cup)
1⁄4 cup simple syrup (equal amounts sugar and water heated until sugar dissolves, cool)
1⁄8 teaspoon Amaretto (I used almond extract)

Garnish

fresh sprigs of mint & basil
Scoop 2 cups each from the watermelon and the cantaloupe using a melon baller. Carve the remainder of the watermelon out and reserve shell.
Add to a blender the chopped mint, chopped basil, lemon juice, simple syrup and amaretto. Blend until smooth.
Add the watermelon and cantaloupe balls to the carved out watermelon half.
Add the vinaigrette to the balls and toss to combine.
Garnish with the mint and basil sprigs and taste.