Watermelon Basil Vinaigrette
PaulaG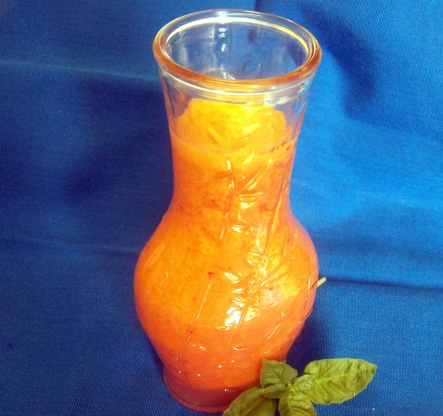 I received this in an email and it sounded wonderful. I am always on the lookout for different dressings. This one comes from the Fresh From Florida Cookbook. I haven't tried it yet but plan to in the near future.

A delicious dressing! I followed the instructions exactly and ended up with an orangey-colored (a surprise--I was expecting it to be pinker) dressing with a sweetish herbiness. We had it on a mixture of arugula, heirloom tomatoes, feta cheese, oil-cured olives, roasted beets and spiced walnuts. Great! Btw, this makes a lot of dressing--it filled a quart jar to the brim.
Add all ingredients to blender jar, cover and blend for until thoroughly blended.
Serve over your favoriate salad.