Watermelon, Arugula and Pine Nut Salad
Bev I Am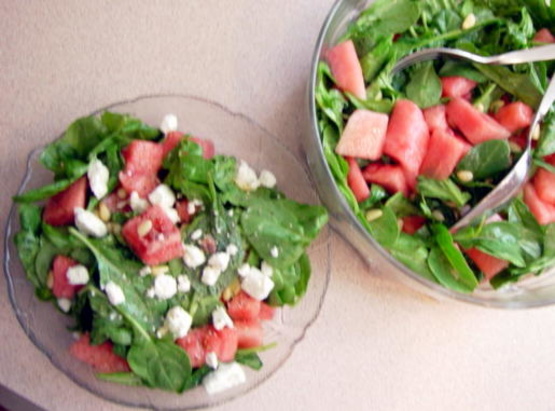 The minute I saw this recipe in Gourmet Magazine, I just knew it would become one of my favorite summertime dishes. What could be better than having watermelon for supper? : ) It's a beautiful eye-catching salad, dressed with a light lemon dressing and I hope you will enjoy this as much as I do!

Very tasty. I make a variation of this using lime juice instead of lemon juice. Since my entree tonight has lime in it, I decided to use the other half for this dressing. LIght and refreshing. Feels like summertime! Thanks for posting.
Whisk together lemon juice, vinegar and salt in a large bowl, then add oil in a slow stream, whisking until emulsified.
Add watermelon, arugula, and pine nuts and toss to coat, then sprinkle with cheese and pepper.