Watercress No Nut or Cheese, Pesto
Bergy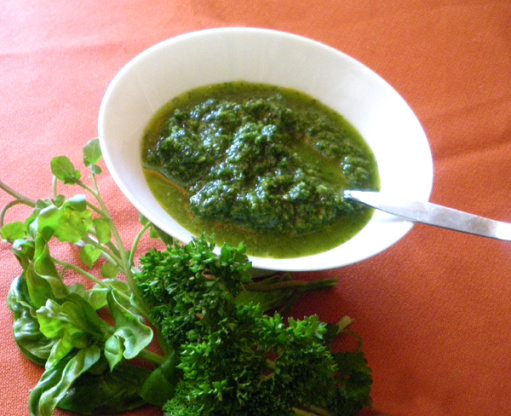 This is wonderful as a coating for a filet of beef or use on a hamburger (I will post a recipe for Pesto Burgers under a separate cover). Try a bit of this with pasta. This recipe is from "Meat Lovers Cookbook" by Sarlin & Porter The recipe is exactly as posted in the cookbook but I find that I can cut the oil back to half and it is still quite fluid.
Put watercress, basil, parsley& garlic in a food processor& process until finely chopped.
Add the olive oil in a slow steady stream to form a paste.
Add pepper.
Place in a sealed container add 1/4" olive oil on top to prevent darkening it will keep for up to 2 weeks.
Or place in ice cube trays and freeze it will keep for up to 6 months.