8 cups popped popcorn, warm
3 tablespoons butter
2 teaspoons prepared wasabi
1⁄2 teaspoon salt
1⁄2 teaspoon sugar (optional)
Directions
Place popcorn in a large bowl.
Microwave butter 20 seconds or until melted; stir in wasabi until well blended.
Drizzle wasabi butter over popcorn and stir to distribute.
Sprinkle with salt and sugar, if desired, and stir again.
Reviews
Most Helpful
It was fun changing up our usual popcorn. I enjoyed the heat and the slight sweetness. I was the only one in my family who would eat it, though! I guess I'm the brave one. ;) Thanks for a fun take on popcorn.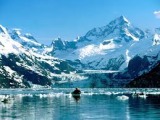 Little, this was some great popcorn. I like to 'mix it up' sometimes, and this snack is just different enough. I followed the recipe as written, using wasabi powder, and we really liked it (including my 6 y.o. DS.) It was kinda like wasabi kettle corn. YUM! I will most certainly keep this in mind when we are looking to spice up the ordinary! Thanks for sharing, littlemafia!

Loved the heat. I have to admit, I left out the sugar....just couldn't imagine it in the mix. Sorry for not staying true to the recipe. I also added some cracked black peppercorns. Yummy!