Wasabi Cream With Cracked Pepper and Dill
BecR2400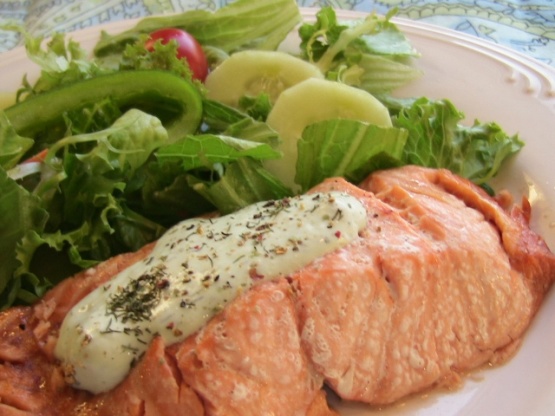 Easy and good! Serve over salmon, seared fresh ahi tuna steaks, or fresh grilled fish of your choice. You can sub snipped fresh oregano or other favorite herbs for the dill, if you like. Recipe is easily doubled.

Nice! Made this for a working lunch. I actually made sandwiches on baguettes. But the recipe was the same. Being lunch I just made sandwiches on grilled baguettes (and the salmon also grilled) and served some shredded napa cabbage. Followed almost exactly ... No food coloring, and I know you said optional. Fresh dill and if using fresh I used more. Dried is much stronger, so fresh I did use more. And cracked pepper, yes, is great with this as well as good horseradish. This is what makes the sauce so good. Simple ingredients. It would be great without the sandwich, that is just how we had it, but next time will just be over a piece of grilled salmon for dinner. Nice and spicy, but NOT too hot. It was great. Kim
Stir all ingredients together and serve over fresh grilled fish of your choice--we like it over salmon. Refrigerate any leftovers.