Warming Italian Sausage and Tortellini Soup
lazyme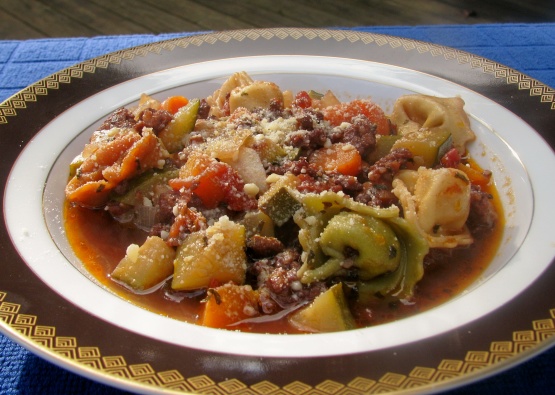 This is a wonderfully filling soup that is a complete meal in one dish. If you use full fat italian sausage, you will need to drain the fat before adding the liquid ingredients or skim the fat from the soup as it simmers. This recipe is very suitable for Weight Watchers if you use very lean sausage and go easy on the tortellini.

Really good soup, and quick to throw together-wish I'd had the recipe when I was a working Mom of four. I don't add the squash, use finely chopped carrots and celery, and I use dried tortellini, just adjust the cooktime. Everyone I serve it to makes a point to tell me what great soup it is. Thanks!
In a large saucepan, cook the sausage for 5 minutes over a medium heat, mashing it up with a spatula (if using very lean sausage you may need to add a little cooking spray).
Add the onion and garlic and continue to cook for a further 3 minutes.
Add the red wine and cook for a further 2 minutes.
Add the beef stock, carrots, zucchini, basil and chopped tomatoes. Reduce the heat and simmer, loosely covered, for 30 minutes.
Add the tortellini and cook for a further 2-5 minutes, until the tortellini is cooked but not overdone.
Remove from the heat and serve, topped with freshly shaved parmesan cheese if desired.