Thorsten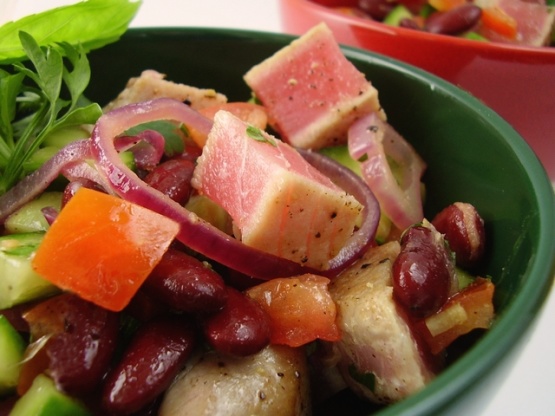 I got this recipe when I was at a crafts fair in Scotland. There was a cooking demonstration in the old fish market hall by the harbour, you could taste the food and get the recipe. I love having tuna salad during the summer months, when it's to warm to cook and all you want is a light meal. If you don't want to make your own dressing it's also nice with French Dressing.

Excellent way to serve tuna and you can enjoy it warm or cold. I followed exactly the directions, except for cooking the tuna. I have seared it before cutting it into cubes. I like the use of red onion, because it is more delicate in taste than yellow onions. The tomatoes and cucumber add a wonderful fresh note (and I think the salad could be chilled in summer to support this fresh note). The beans melt all the different flavors and are an excellent counterpart for the tuna. I would suggest to use this dressing, because the fresh herbs are fantastic. I like this salad, because it is easy to make and full of flavors. And it is a fantastic way to serve very fresh tuna.
1

lb tuna steak, skinned and cubed,can be fresh or defrosted

1

tablespoon olive oil

1

clove garlic, crushed

1

red onion, thinly sliced

1

(14 ounce) can red kidney beans, washed and drained

2

tomatoes, chopped
1⁄2 cucumber, chopped

Dressing

2

tablespoons olive oil

2

tablespoons chopped fresh parsley

1

tablespoon chopped fresh basil

2

teaspoons vinegar
salt, to taste
pepper, to taste
green salad leaves, to garnish
Heat oil in a pan.
Add garlic, onion and tuna, cover and cook for 5-7 minutes on a low to medium heat.
Spoon mix into a large dish and add the beans, cucumber and tomatoes.
For the dressing, put all dressing ingredients in a dressing shaker (you can use a jar with a screw top lid) and shake until everything is mixed well.
Pour the dressing over the tuna salad.
Arrange the tuna salad on a bed of green salad leaves of your choice to serve.