Warm Tandoori Chicken Salad (21 Day Wonder Diet: Day 4)
Sara 76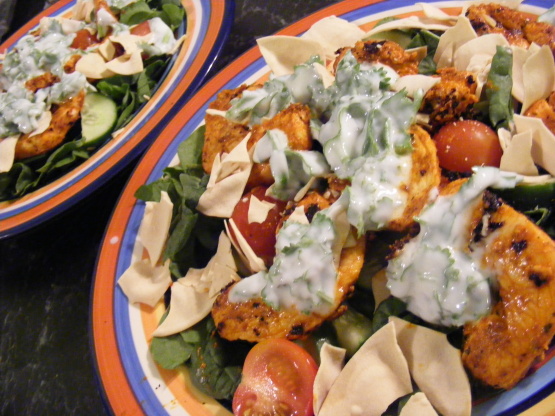 This is Day 4: Dinner, on the 21 Day Wonder Diet. if you prefer not to use tenderloins, you can use 280g chicken breast, cut into strips, instead.

We loved this salad. Ended up using chicken breasts and for the tandoori spice mix I used Recipe #333539, let it mellow overnight and cooked it up once I got home. Did not have pappadams, used whole wheat pitas instead. I don't like cilantro, so I did not add the coriander. With that said, I would really like to try this with a different 'dressing' Maybe with some red onion and garlic, like a tsziki sauce.
Combine yogurt, coriander and juice in small bowl.
Cook pappadums in microwave oven on medium (50%) for about 40 seconds; break into pieces.
Sprinkle chicken with tandoori owder; spray with cooking oil. Cook chicken on heated grill plate. Slice thickly.
Combine spinach, cucumber and tomatoes in medium bowl; add chicken. Serve salad sprinkled with pappadums, then drizzled with coriander yogurt.