Warm Spinach and Dried Fig Salad from Sun-Maid
COOKGIRl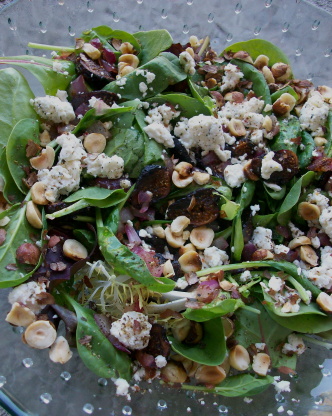 As printed in the Gooseberry Patch cookbook. Perfect for autumn as either a main meal or side salad!

What a fabulous salad! I got the same Gooseberry Patch cookbook in the mail last week and this was the first recipe that caught my eye. I've never had figs much before and bought some a few weeks ago on a whim; this recipe was a perfect use for some of them! I cut it down to one salad and used apple cider vinegar. I did leave off the hazelnuts because I'm not a big nut fan but otherwise made as written. Will be making again tomorrow since I have more of all the ingredients. Thanks for posting (so I didn't have to!)
In a pan over medium heat, sautè onion in the olive oil until softened, approximately 2 minutes.
Stir in the figs, brown sugar and vinegar. Simmer 30 *seconds*, stirring until the figs are coated well in the mixture.
In a large bowl, combine spinach leaves and the warm onion-fig mixture. Toss to coat.
Divide and place the salad on individual salad plates.
Garnish with feta, hazelnuts and black pepper.
Serve immediately.