warm shredded shoulder of lamb
Derf2440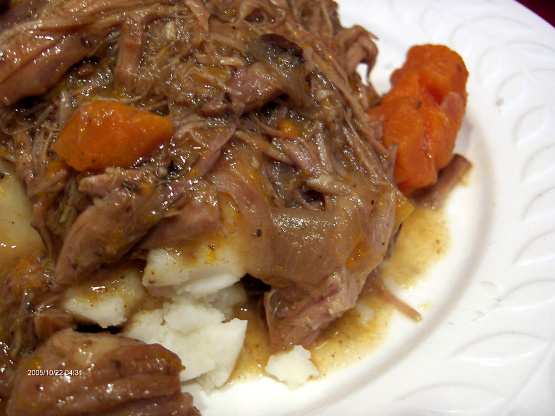 This dish is so cheap and easy to make and tastes absolutely delicious. We have it as a warm supper in winter, and with a salad in the summertime It's absolutely delicious - try it!

mmmmm lots of taste, I used a whole garlic head and added lamb seasoning consisting of rosemary, marjoram,thyme, oragano, mint, basil and some pepper corns. Instead of a roasting pan I put it all in the crockpot and left it for 8 hours, til if fell off the bone. Poured it into a colandar to drain the juice and chill it overnight so that the fat would come to the top and I could remove it. The gravy jelled overnight. Then joined the defatted gravy, meat and veggies together again, thickened it slightly and heated it then served it over mashed potatoes. YUMMY comfort food!!
Cut the carrot and onion into very large chunks and place into a roasting tin, together with the lamb shoulder and the peeled garlic cloves.
Pour the pint of water over the lamb.
Cover the roasting tin with foil and bake in a slow oven (around 140 degrees) overnight or for around 8-10 hours.
If you don't have enough time for this, roast at 170 degrees for around 3-4 hours.
Remove the lamb from the roasting tin and place on a rack to drain for around ten minutes.
The lamb should"fall apart" and the carrots are wonderfully juicy and tender.
Shred the lamb onto a serving plate If pomegranetes are in season, squeeze the seeds over the shredded lamb for a lovely warm summer salad.