Warm Salmon Salad With Crispy Potatoes
Ms B.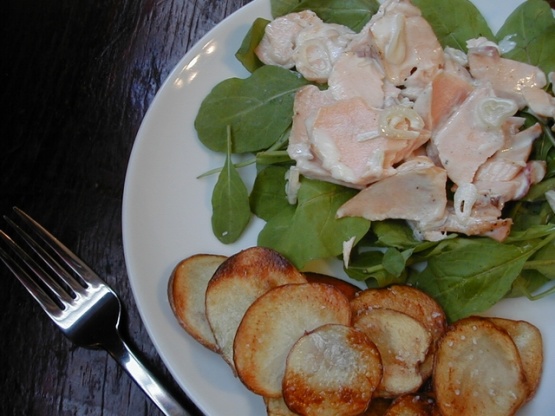 This salad is remarkable. The potatoes fry up crispy on the outside and tender on the inside of the thin slices and provide a hearty balance to the slightly tangy dressed salmon and the spicy arugula greens. From an ArcaMax.com email. (I have prepared this using leftover broiled salmon instead of the canned.)
Heat 1 tablespoon oil in a large nonstick skillet over medium-high heat.
Add potatoes and cook, turning once, until brown and crispy, 5 to 6 minutes per side.
Transfer to a plate and season with ¼ teaspoon salt; cover with foil to keep warm.
Combine the remaining 1 tablespoon oil, ¼ teaspoon salt, shallot and vinegar in a small saucepan.
Bring to a boil over medium heat.
Remove from the heat and whisk in buttermilk.
Place salmon in a medium bowl and toss with the warm dressing.
Divide arugula among 4 plates and top with the potatoes and salmon.