Warm Roasted Vegie Salad (21 Day Wonder Diet: Day 7)
Sara 76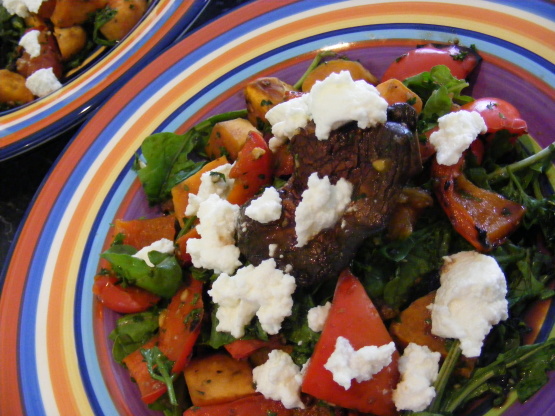 This is Day 7: Lunch, on the 21-Day Wonder Diet. Instead of roasting the vegetables, you can char-grill them on a BBQ or grill pan. This salad can be made a day ahead, then warmed in the microwave. Add the cheese last. This lunch is to be followed by an afternoon snack of 125g grapes.

HI Sara 76 I have been following your 21 d Wonder Diet. Excellent. Finally ready to try as the foods really look good, seem to have an international flare and are easy. Thanks for posting. I looked for the cook book on line, but then realized that you were posting all the recipes, as well as the snacks. Just wanted you to know how much your efforts are appreciated. We are moving in about 2 weeks and will start before I get my larder full of all the "wrong" stuff in the new place (about 2000 miles away) Let me know how it is coming for you. :) I'll keep you posted as I go thru the recipes Judy in WA judy in WA
Preheat oven to 220C/200C fan-forced.
Combine vegetables and garlic in large baking dish. Roast, uncovered, about 25 minutes.
Combine roasted vegetables with parsley, rocket, and vinegar in large bowl.
Serve salad sprinkled with ricotta cheese.