Warm Rhubarb, Red Banana, and Blackberry Salsa
CoffeeB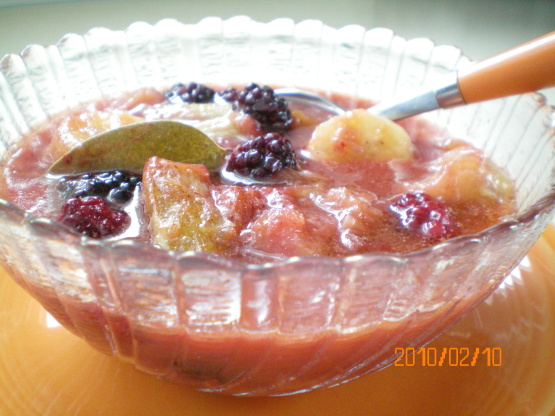 An unusual topping for vanilla ice cream. I like this one slightly spicy.

I was very intriqued by this recipe in it's use of fruit along with savory spices. I never would have thought to add these things together, but they truly work. Excellent either over frozen vanilla yogurt/icecream, or by itself. I did opt out of using Tabasco as I'm not a fan. :-) Made for FrenchForum's Herb of the Month - Bay~
Brown the butter over medium high heat in a sauté pan.
When brown add bay leaf, orange juice, and brown sugar.
Swirl sugar and butter over heat until sugar melts.
Add the rhubarb and sauté for 30 seconds.
Add the rest of the fruit and sauté for another 30 seconds.
Season to taste with salt, pepper, cinnamon, and Tabasco.
Serve immediately- excellent served over vanilla ice cream.
Makes 4 servings.