Derf2440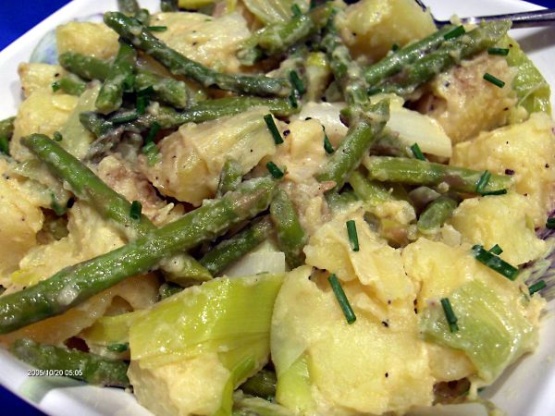 I had my inlaws over for dinner and this certainly impressed! DH said it was the best meal he ever had, too. My MIL loved it so much, she is making for a family reunion this Sat. She just had it at my house 3 days ago:) Thanks so much for my new favorite recipe.
In a large bowl, whisk the mustard with the vinegar. Whisk in the canola oil in a thin stream and season with salt and pepper.
Bring 2 medium saucepans of salted water to a boil. Add the potatoes to one and cook for 20 minutes.
Simultaneously, cook the asparagus and leeks in the other saucepan for 5 minutes. Drain and pat dry; add to the vinaigrette. Drain the potatoes and slice 1/2 inch thick; add to the bowl.
Add the chives, season with salt and pepper and gently toss the salad. Serve warm.