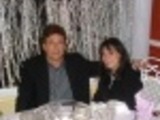 From Hannaford Supermarkets - posted here for safekeeping.
Directions
Cook pasta according to package directions; drain. Heat oil in medium skillet over medium heat. Add onion, garlic and zucchini, cook stirring 2 minutes. Add tomatoes and arugula; cook 2 minutes more.
In large bowl, combine orzo, vegetable mixture and feta. Pour balsamic vinaigrette over pasta and toss gently.
Reviews
Most Helpful
We had this with dinner tonight, and it was delicious! I followed the instructions exactly, except I cut the basalmic in half to keep the flavors more diverse. If you have extra of the vegetables on hand, there is room to add 1/2 more of each without overpowering the pasta, but it's perfectly fine the way it is! I'm looking forward to trying the leftovers cold tomorrow!
Had this for lunch yesterday with a sandwich and it was delicious. The only change I did was use spinach instead of arugula. Also I cut the recipe in half. I mixed everything in the skillet at the end to save on a bowl and I mixed in the feta before I was serving it. All the flavors blended so well and was yummy. I made Basic Balsamic Vinaigrette for the vinaigrette. Delicious. Thanks for sharing your recipe JackieOhNo. Made for Holiday tag Oct'09

This was a very nice pasta dish, I added 2 cloves garlic, roma tomatoes fresh off the bush, and I used spinach instead of arugula as I had some spinach that needed to be used. I cut back on the feta, and served it on the side (personal preference). DH just loved this ~ he is especially fond of the tangy flavor of the balsamic in the mixture. Thanks JackieOhNo for a new keeper recipe! Made for POTLUCK TAG, Feb 2009.