Warm or Cold Potato Garden Salad
Zurie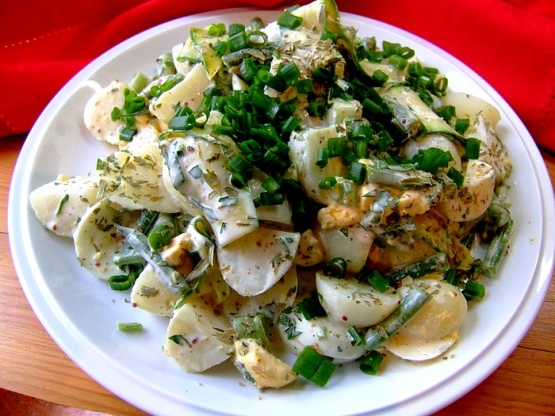 Really really tasty when warm and also yummy cold! You can half the recipe easily or double it! Haricot vert is French for green beans. Haricot meaning beans and vert meaning green. French green beans are longer and thinner than most American varieties. They are also more tender and have a more complex flavor. For the most part, they are interchangeable with American green beans which are also called string beans or snap beans. If you are unable to find haricot verts, substitute with the thinnest young green beans you can find. Made for the CrazeE contest 2009

FANTASTIC! We LOVED, LOVED, LOVED this! I thought I was making this for tomorrow night's dinner but it was so good at room temp and just made even that we ate it tonight. We could hardly keep our forks out of it. The dressing was so creamy and tasty with get a touch of tangy and it was perfect for these veggies! What a nice combination of flavors! I grilled my zucchini rather than boiling and it was very tasty that way. I subbed light sour cream for the yogurt because that's what I had on hand and added alot of salt and granulated garlic. You could do all kinds of additions to this like roasted red peppers... bacon would be great. This recipe lends itself to lots of experimenting. Thanks so much for posting this really great salad Sharon! I will be making this many, many times in the future. Made for PRMR.
Place the potatoes in a pot. Cover with water, sprinkle with 1/4 teaspoons salt, and bring to a boil. Cook about 15-20 minutes, or until tender when pierced with a fork. Drain, rinse under cold water.
Meanwhile, bring another pot of salted water to a boil. Cook the haricots verts and zucchini for about 2-3 minutes, until beans turn bright green. Strain them and rinse and drain in colander with cold water to stop the cooking process.
In bowl, mix mayonnaise, yogurt, mustard, vinegar(s), black pepper, and tarragon until smooth. Use the larger amount for lots of creamy dressing.
Peel potatoes, cut into bite size chunks(1/2"-1"),.
Place potatoes, zucchini and beans, scallions, eggs, and parsley into a serving bowl and toss gently with mayonnaise dressing. Garnish with chopped chives and serve warm or cold.
Note:.
If serving cold the next day, make a little more dressing and add some in when ready to serve. The potatoes absorb alot of the liquid and the salad may be a little dry.