Rita1652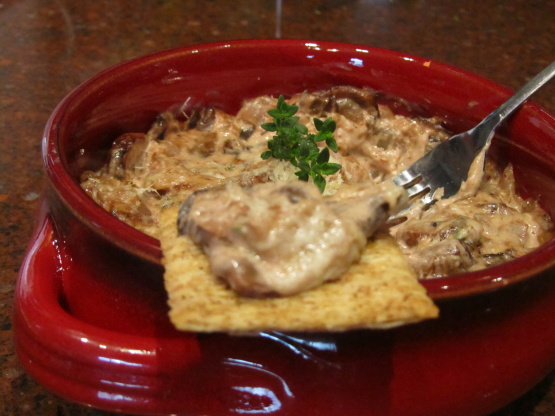 Can be used as a dip/spread for crackers or toasts; may also try on steak...

Delicious appetizer dip! The sour cream, parmesan and mushrooms are a perfect combination. I don't care for onions so left them out, and made half of the recipe. Served with wheat thins and triscuits and really loved this - thanks for sharing the recipe!
Preheat oven to 375 degrees F (190 degrees C).
Melt the butter in a skillet over medium heat.
Stir in the mushrooms and onion, and cook until tender.
Sprinkle with the flour.
Reduce heat to low, and continue cooking 5 minutes.
Mix in sour cream and lemon juice, and season with salt and pepper Transfer to a small casserole dish, and top with Parmesan cheese
Bake 15 minutes in the preheated oven, until bubbly.