Warm Mushroom Salad With Feta
JustJanS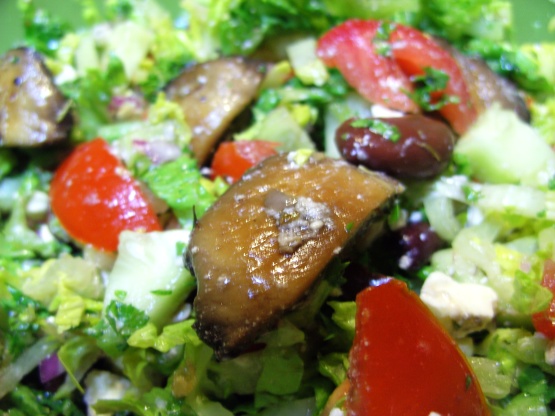 Serve with crusty bread for a delicious appetizer or lunch.

We thought this salad was pretty good thank you. Its fresh flavours which were just right for a hot summer's night. We ate it with spicy pork sausages and crusty bread as suggested. I had to use dried thyme (about 3/4 teaspoon) so used some parsley so it still had a fresh herb in there. I reduced the onion to half a small one.
Heat the oil in a large frying pan, add the mushrooms and sauté over a high heat for 5 mins stirring occasionally until pale golden.
Add the garlic, thyme and lemon juice and seasoning to taste, stir well then remove from the heat.
Arrange the lettuce in a large bowl, scatter over the remaining ingredients, then add the mushrooms and all the pan juices.
Toss to mix and serve with crusty bread.