Warm Moroccan Style Salad
Parsley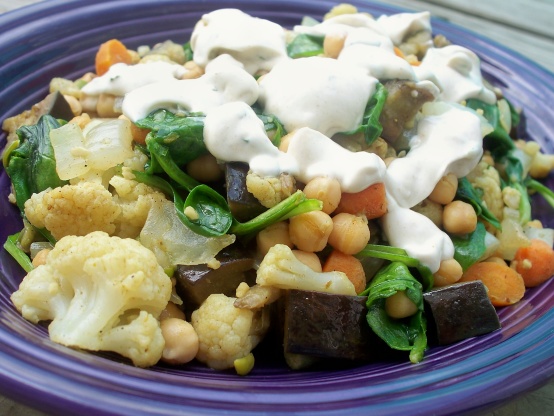 A Moroccan style vegetable salad using some frozen vegetables - peas, carrots and cauliflower - canned chickpeas and some fresh vegetables - eggplant and spinach leaves - served with tangy yoghurt dressing. Vary the vegetables to meet your personal taste preferences and the availability of vegetables. Adapted from the Simply Great Recipes Club website. Serve with a Moroccan dish such as Moroccan Chicken With Preserved Lemons and Couscous Moroccan Chicken With Preserved Lemons and Couscous, Moroccan Lamb With Tomato & Couscous Moroccan Lamb With Tomato & Couscous or Moroccan-Style Chicken Moroccan-Style Chicken, or with any grilled or BBQd meats.

My daughter made this for the family--delicious. We didn't use eggplant, but added edamame. We loved the dressing on it. She served it with left over Hoisin Chicken Balls by The Flying Chef with Morroccan Spice Cookies by melbalou. It was a perfect dinner with Moroccan green tea with mint. We also had to use garam masala for the mixed spice.
Heat the oil in a large pan or wok, preferably non-stick; add the garlic and onion and stir-fry for 1 minute.
Stir in the frozen vegetables, eggplant, chick peas and Moroccan spice mix and stir-fry for 6-7 minutes.
Meanwhile in a small bowl combine the yoghurt, mint, honey and cumin.
Toss the spinach leaves through vegetables, spoon onto a serving plate and drizzle with the dressing.
Serve immediately.
Notes: Moroccan spice mix is available in the herb and spice section at the super market.