Warm Lentil- Ham Salad With Dijon Cream
GaylaJ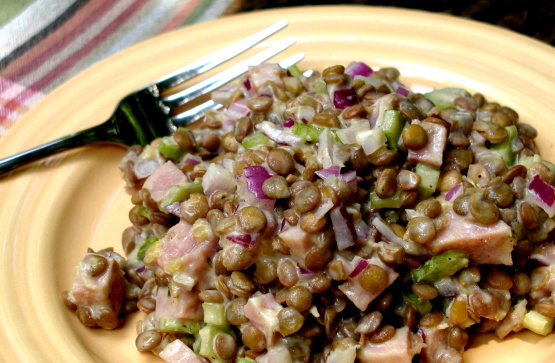 This main-dish salad from Cooking Light can be served at room temperature or chilled. It does not call for any salt, I assume because of the ham, but I add a bit of salt anyway.

Just wanted to make a comment, not give a rating. This looks like a beautiful salad, and others have apparently had success. I have tried it two or three times and it never comes out right. Maybe using the canned lentils as others suggested would help.
Place lentils in a large saucepan and add water to 2 inches above the lentils.
Bring to a boil, cover, reduce heat, and simmer 20 minutes, or until tender; drain well.
Combine sour cream and next 5 ingredients (through pepper) in a large bowl.
Add lentils, ham, celery, and onion, and toss well.