Warm Goat's Cheese on Toast and Lettuce
Prep 10 mins
Cook 10 mins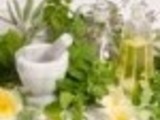 One of the most popular classics, though very quick and simple to make.If you love goat cheese this is a treat.
Directions
Wash and dry the lettuce ; on chopping board, crumple a few leaves together in your hand and cut thin strips with a knife on a chopping board. Share them among the individual dishes.
Put one goat cheese on each bread slice and pre-heat oven on grill position.
Make your vinaigrette : In a bowl mix salt, pepper, and mustard ; solwly add the vinegar and then the oil, always mixing.
When ready to serve, put the toast and cheese under oven grill for about 5 to 10 minutes ; the cheese should begin to get warm and slightly melt ; in the meantime, pour a bit of vinaigrette on the lettuce strips of each dish.
When cheese is ready, put the toast on lettuce and serve right away.
Decorate with a walnut half or parsley.
I used a roll of Goat cheese and cut thick slices.
Most Helpful
Very tasty dressing for a simple lettuce salad, and we enjoyed the toasts with the soft goat cheese to dress it up.