Warm Doughnuts a La Mode With Bananas and Spiced Caramel Sauce
eabeler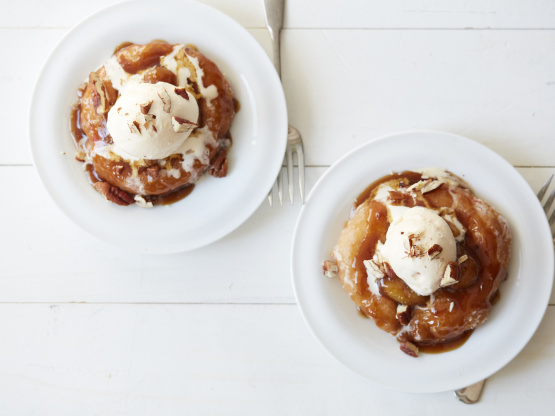 A new and delicious twist on an old favorite. I found this recipe in Bon Appetite, Jan 2007.

Top Review by Calee
Wonderful easy dessert! I used glazed donuts and I ran out of pecans so I sprinkled granola on top I love the caramel sauce with just a hint of rum. I bought a few extra doughnuts and the next day I cut three doughnuts up and made the caramel sauce and poured it over the doughnuts in an oven proof dish and sliced bananas over top and put it under the broiler for a few minutes both equally good! The way its written and served would be a great way to serve to guests. Thanks Bev for a great recipe!
Preheat broiler.
Place the doughnuts on small baking sheet; then set aside.
To make the caramel sauce: stir the butter and brown sugar in a heavy medium skillet over medium heat until the butter is melted.
Boil for 1 minute, stirring occasionally.
Remove from heat.
Mix in lemon juice and spices, then rum; stir to blend.
Cool caramel sauce 3 minutes.
Meanwhile, broil the doughnuts just until hot and bubbly, watching closely to avoid burning, 1 to 2 minutes per side.
Transfer the doughnuts to 2 dessert sized plates.
Gently toss bananas with caramel sauce in skillet, to coat.
Top doughnuts with a scoop of ice cream, flattening slightly in center.
Spoon bananas and caramel sauce over.
Sprinkle with nuts and serve.