Warm Chorizo and Thyme Lentils
IngridH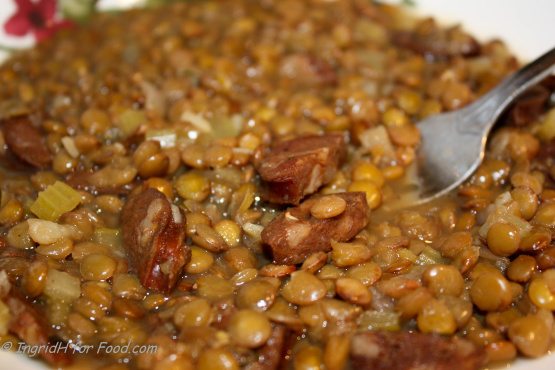 This was really yummy! I made two small changes- I cut the oil in half, and cut my veggies finely instead of leaving them in large pieces. My lentils took 10 minutes longer to cook than called for, but that's normal when cooking any dried legume. The flavors were great, the spiciness of the chorizo is a very nice compliment to the lentils, and the vinegar at the end is an absolute must to give the dish a last minute bit of bright flavor. I did question the servings you put on the recipe- I cut it in half, but still had enough for 4 servings for myself (I'm a light eater, but still, it seemed like a huge serving). Thanks for sharing! Made for ZWT8.
Heat oil in deep frypan.
Add onion and chorizo, cook about 8 minutes till browned.
Add celery, garlic and thyme, cook further 5 minutes.
Add lentils, stock, salt and pepper, cook 25 minutes till lentils are tender.
Remove from the heat, stir through vinegar.